Sale CAN$170
Learn how to meditate and read in between your pencil strokes
This 4 week course is designed for those who are interested in learning a relaxing and meditative doodling technique based on academic knowledge of gradation and shadows. You will study theory of Shadows and Holes. You will practise creating the illusion of air inside any object. You will learn how to achieve depth, volume and fullness of an empty space.
By the end of the course you will be able to create your own story and read in between the pencil strokes. You will learn how to show the depth, volume, air and light in your drawings.
You will only need paper, pencils and eraser.
No previous experience required.
For all ages and for all skills levels.
ZOOM package for online study with full teacher support

START Wednesday April 5th, 2023 @ 7 PM EST

4 ZOOM classes with private access to carefully edited class video recordings
4 homework reviews (text or video)
12+ practical exercises
4+ final drawings
  





Video access: 
4 weeks with teacher support 
+ 
Lifetime for self-studying

Once you register and enroll for this course you will get access to the course content and ZOOM link.
You will get access to all support materials previous of the first day of the course. Please print them or make sure that they will be available at your device(s) for use during the class.
Course Content
Meditation Art
This type of art helps you to train your inner eye and set free a part of your psyche that previously did not have voice. You will learn how to see the world with your unconscious vision.
What is in the course?
What types of pencil, eraser and paper you can use
how to hold a pencil so that your drawing stays clean and un-smudged
how to set up your work space
how to create a strong and balanced composition and how to set up the light and motion for the composition
why the contrast of light and shadow is the most important aspect of your work
how shadows form the shapes and values of subject
how to breath and meditate during the painting process
and much more
Zoom will be used to host live interactive classes. After the class you will get a private access to Zoom class recordings. The online study process will be simple, stress free and understandable for every student. There will be many exercises that will help you to become confident in the pencil drawing.
The schedule:
Lesson 1
Materials. Theory of shadows.
April 5th, 2023
7 -9 PM EST Montreal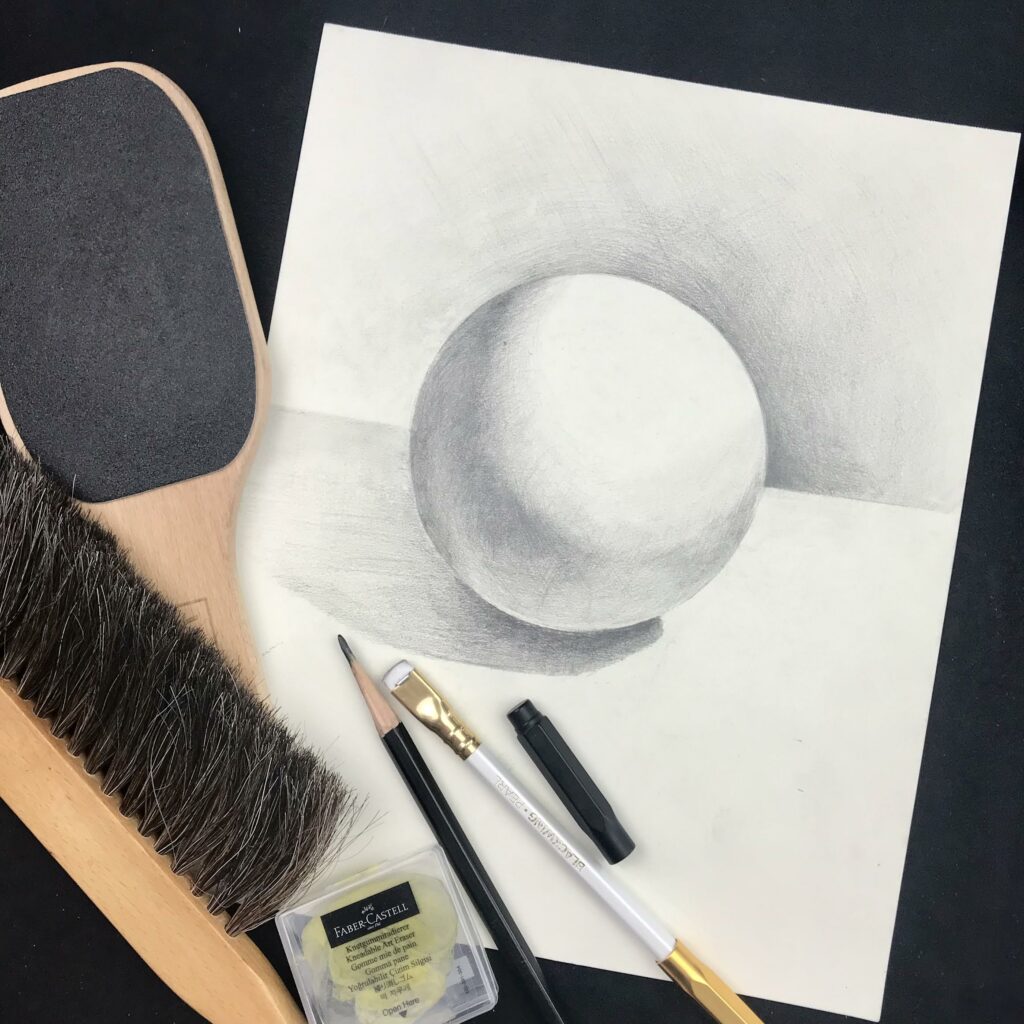 In this lesson you will learn about materials and tools. You will practice creating different types of pencil strokes and gradation.
Lesson 2
Theory of Holes. Creating the story.
April 12th, 2023
7 – 9 PM EST Montreal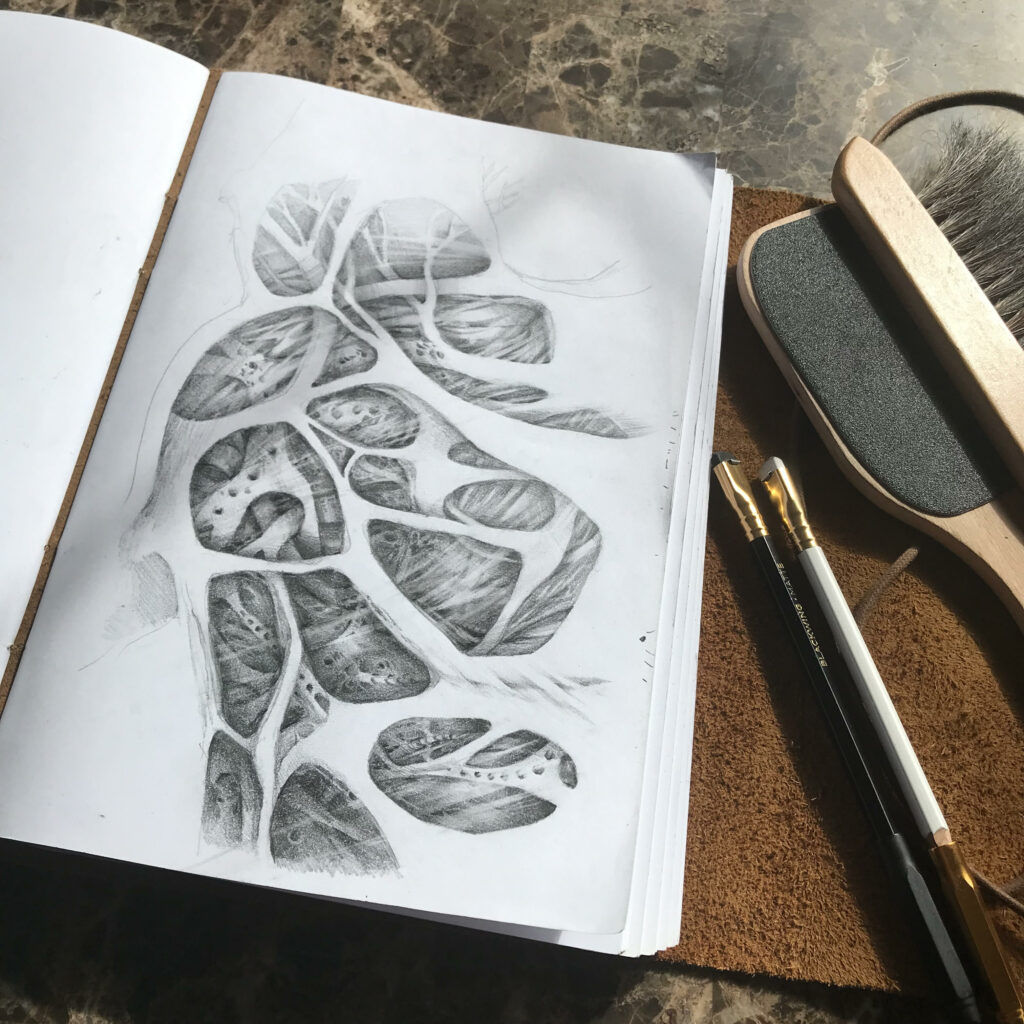 In this lesson you will learn the intriguing theory of Holes. You will practicing creating the illusion of empty space. You will learn how to create fascinating drawing story using doodling techniques.
Lesson 3
Depth and Value
April 19th, 2023
7 – 9 PM EST Montreal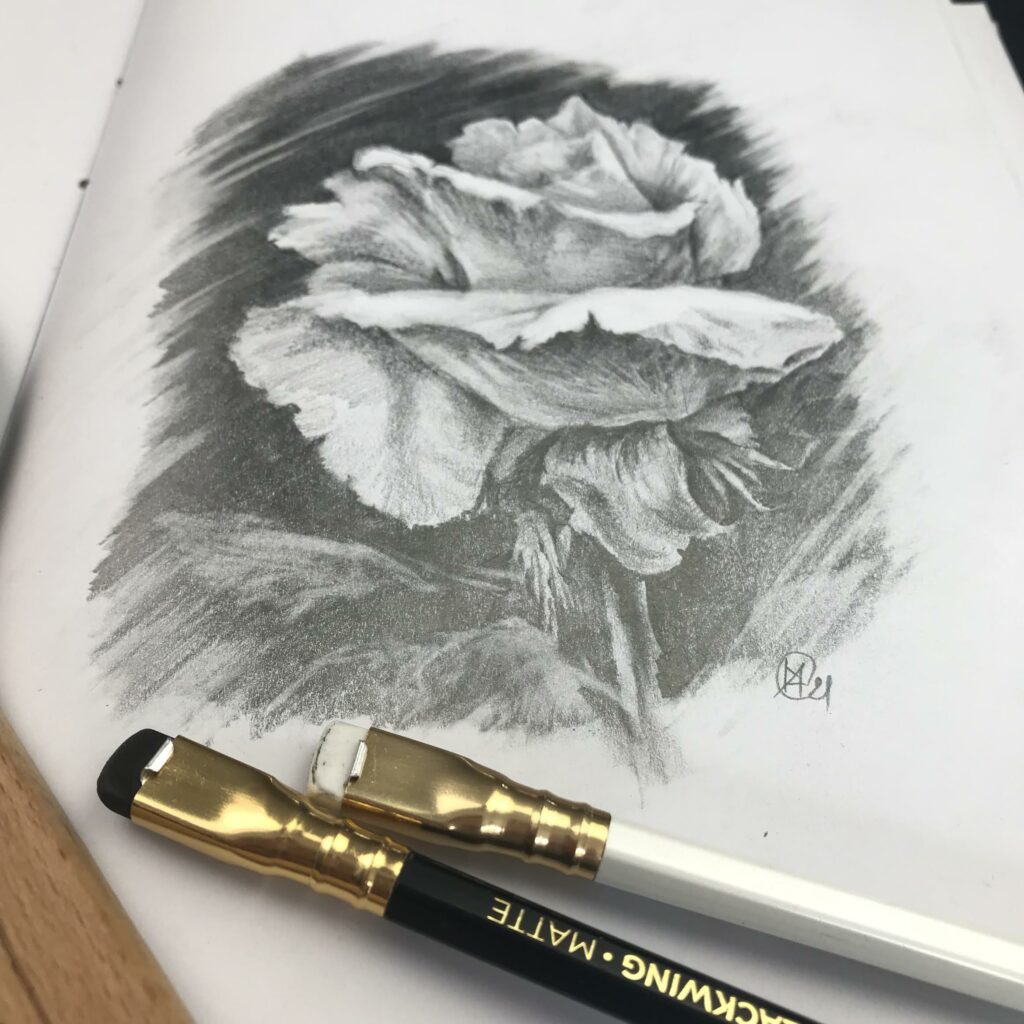 In this lesson you will practicing creating depth and value in the flower drawings.
Lesson 4
Light and Air
April 26th, 2023
7 – 9 PM EST Montreal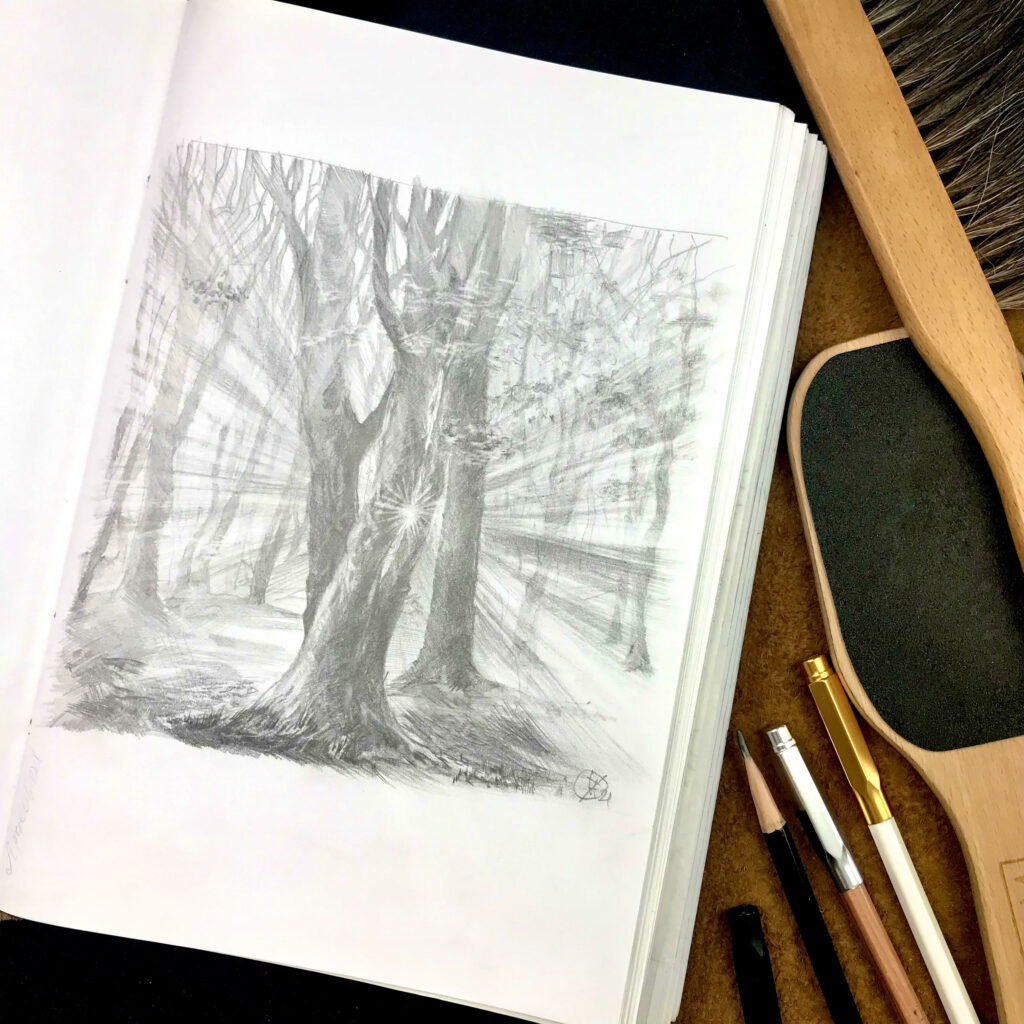 In this lesson you will practicing creating light and air in the landscape drawings.
Take this Course
Student's work:
Materials that you need for this course:
This list is only for your information, there is no need to get exactly what I am using:
Printer paper for photo references (optional);

Drawing paper, at least 10-15 sheets Format A4 (printer paper). You might need more, depending on how many home work exercises you will be doing. You can use any type of paper for your class and home exercises, even printer paper would be acceptable to use. Although for the better result the drawing paper with weight 80 lb. (130g/m2) or more is recommended.  My recommendation is Strathmore 400 series Drawing paper, 80 lb;
Pencils: HB, 2B, 4B, 6B, 8B. You can use any type of pencils. My recommendation: Blackwing; Derwent, Staedtler Mars Lumograph;
Artistic tape (optional);
Eraser. You can use any type of erasers. My recommendations: black eraser , electric eraser (DERWENT), kneading eraser (FABER CASTEL), detailed eraser (Tombow MONO Zero round and rectangle);
Paper towel and Kleenex;
Drawing board (the board which you will tape your paper to); You can use a clipboard or any smooth

surface board big enough to place you paper on it;

Pencil sharpener or Craft knife;
Dust brush (optional);
Blending Stumps and Tortillons (optional);
Q-tips (optional);
The list of subjects you need to have for the visual exercises (optional):
Lesson 1
A small box, a drinking glass and a ball (kids toy or ball of yarn)

Table lamp
Lesson 2
6-8 medium size books, at least 2 cm thick

Printer paper, a few sheets
Scissors
Tape
Shoe box (optional) 

Table lamp