Continue exploring the Canadian landscape in a new set of mini-courses. This time we will travel from East to West painting the Atlantic ocean coast of Nova Scotia, breathtaking views of Quebec, fantastic skies of Saskatchewan, and the beauty of the British Columbia coast.
Upgrade your skill level and widen up your artistic horizon!
Get early Bird price if paid by September 30, 2023
Nova Scotia is the fourth mini-course of the Canadian landscape set of courses. This mini course takes you to one of Canada's Maritime provinces – Nova Scotia. The province is almost entirely surrounded by water and boasts over 13,000 km of coastline, thousands of lakes, lush valleys, whales and the world's highest tides.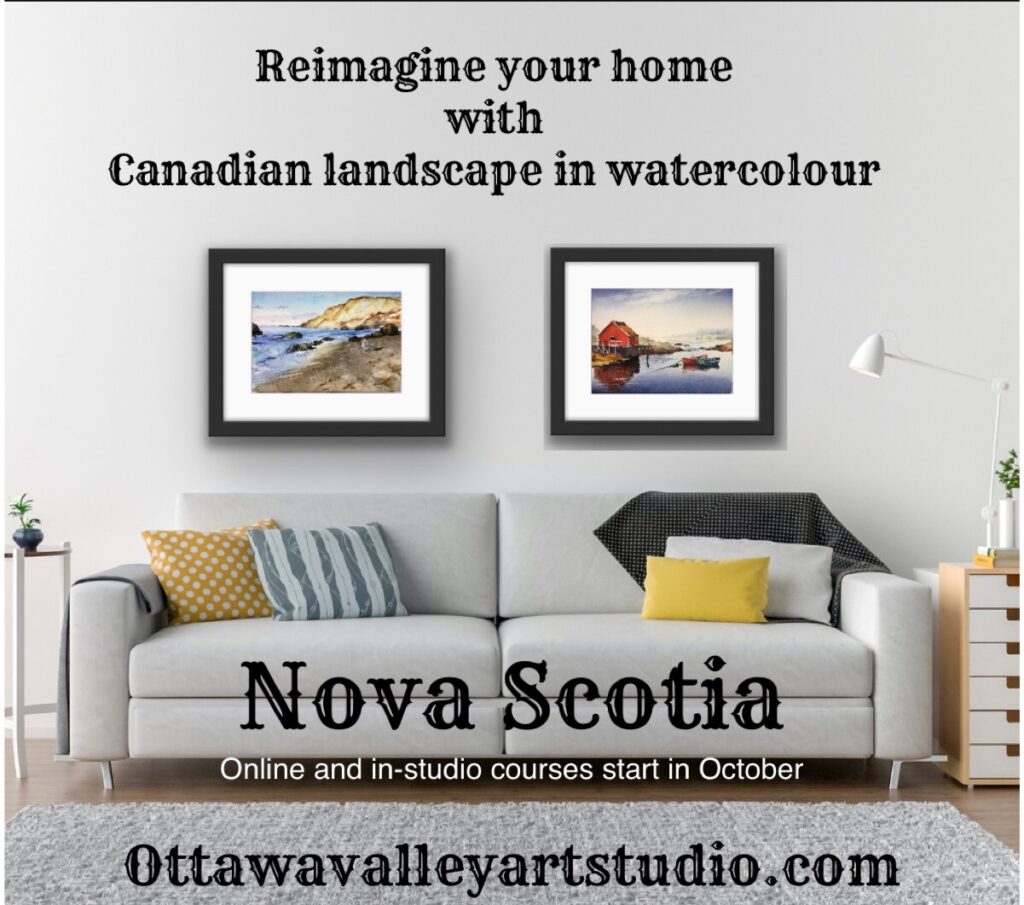 What this course gives you?
In this course you will improve your skills in painting seascapes, coast lines, surf and sand. You will experiment with the colour palette to create waves, wet send, birds and reflections. You will finish at least four large paintings plus practical exercises.
What is in the course?
This course contains four lessons. You will continue to learn the theory of atmospheric perspective and use this knowledge in practice. You will paint four seascape scenes, where you will experiment with different watercolour techniques.
Lesson 1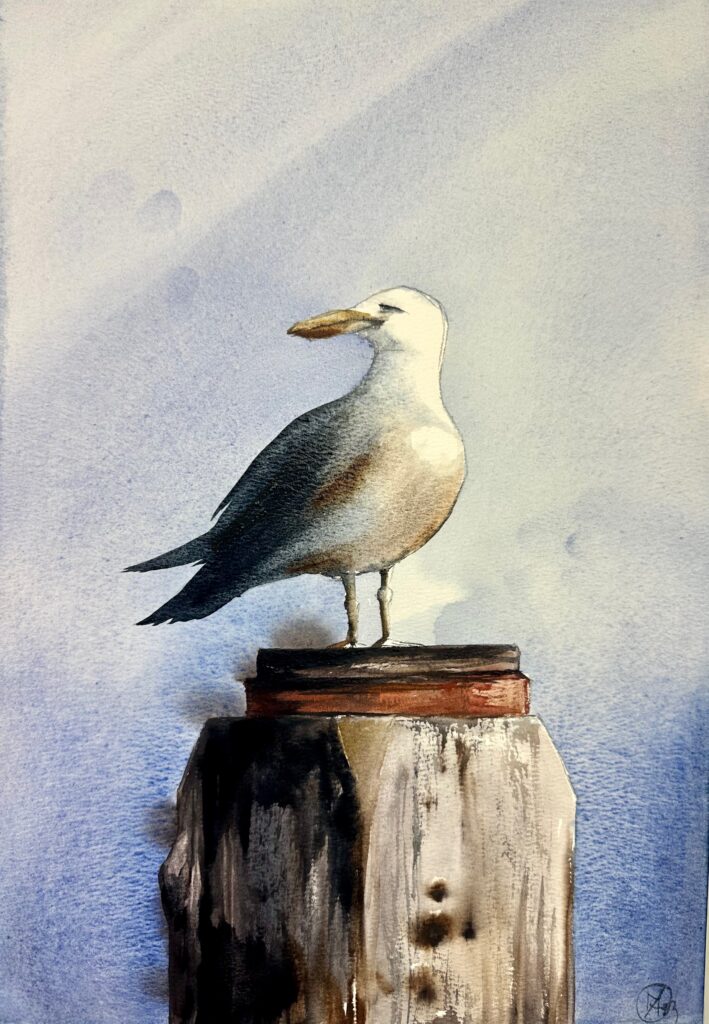 Seagull
In this lesson you will learn about materials and tools. You will practice creating different types of sketches of water birds.
Lesson 2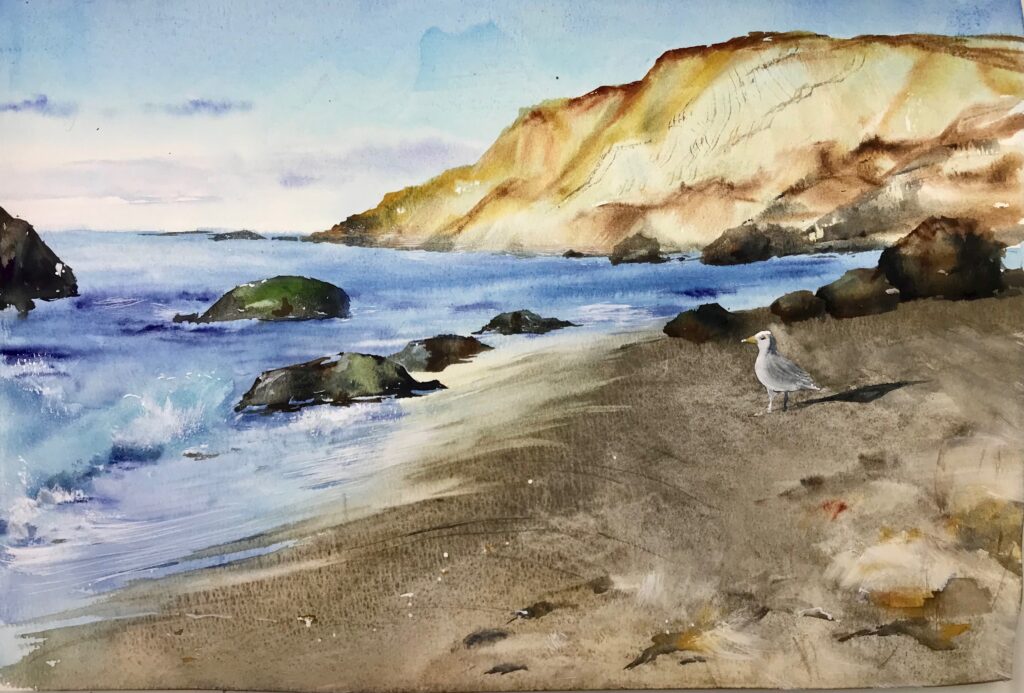 Ocean coast
In this lesson you will practice creating a beautiful seascape. You will learn how to create wet send and sea foam.
Lesson 3
Fisherman
In this lesson you will practicing creating depth and value in water reflection and haze.
Lesson 4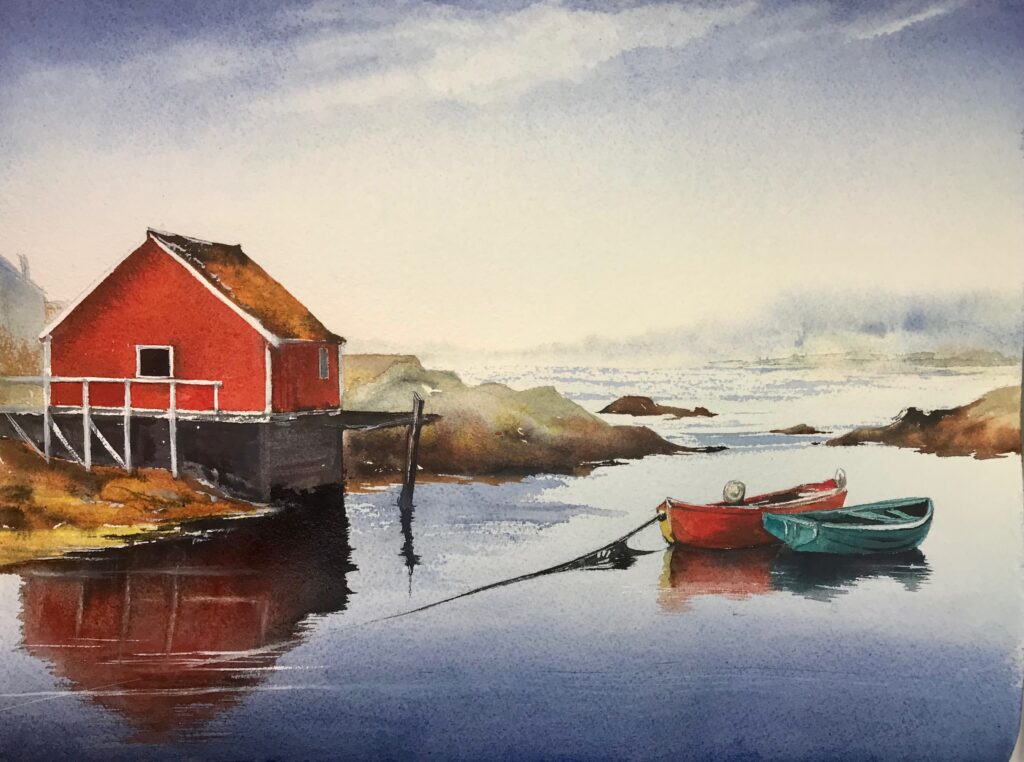 Boathouse
In this lesson you will practicing creating light and air in the seascape painting as well as reflections and moving water.
Choose the package that fits your life style the best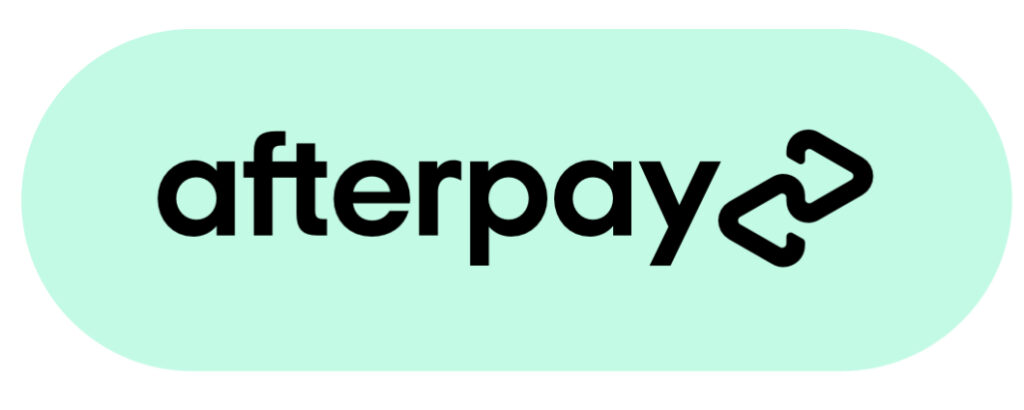 Buy now and pay it in 4 interest-free instalments over 6 weeks
Get early Bird price if paid by September 30, 2023
ZOOM
Zoom will be used to host live interactive classes. After the class you will get a private access to carefully edited Zoom class recordings.
The online study process will be simple, stress free and understandable for every student. There will be a lots of exercise that will help you to become confident in seascape painting.
You will get access to all support materials previous of the first day of the course. The homework reviews will be provided weekly according to the schedule.
ZOOM package for ONLINE study with full teacher support

START Tuesday October 31, 2023

7 PM - 9 PM EST Montreal time

4 ZOOM classes with private access to class video recordings
4 homework reviews (text or video) 
4 paintings
4+ practical exercises  





Video access: 
4 weeks with teacher support 
+ 
Lifetime for self-studying

STUDIO
Ottawa Valley Art studio is in the private residence with 5 min drive from Arnprior Canadian Tire and Pakenham Public Library, and within 15 min of Burnstown and White Lake, with 25 min from Kanata, Calabogie and Renfrew. The studio is spacious and fully equipped.
STUDIO package for IN-PERSON study with full teacher support

START Thursday November 2, 2023 

10 Am to 12 PM EST Montreal time

4 in-person classes at the art studio in Pakenham, Ontario, Canada

PLUS

lifetime access to all video tutorials from the package NOVA SCOTIA. BASIC.


   

Student's work
Student's work gallery is coming soon