Welcome to SKETCH CLUB
Join Facebook Group SKETCH BUT NOT
Welcome to SKETCH BUT NOT Art Marathon Community.This is a public community of artists who decide to take a part of art sketch marathon in May 2021. The idea of this marathon was to let all my students and their friends to continue practicing every day sketching and fast painting. We started on May 1st, 2021 with an idea to do MAY BUT NOT art sketch marathon. And now we are in the second year of this challenge! In December 2021 we changed the name to SKETCH BUT NOT.
Do you feel uninspired or struggle for ideas of what to sketch?
NEW
Do you want to join us in person at the next Plein Air Session?
Do you live within driving distance of Ottawa, ON, Canada?
Come to Aquatopia Water Garden Conservatory, 2710 March Rd #2, Carp, ON K0A 1L0
April 15th, 2023 @ 10:00 AM
We will have fun!
Bring your favourite materials for sketching.
After the session please join us for a lunch at The Cheshire Cat Pub
2193 Richardson Side Rd, Carp, ON
Registration is required
Registration Form
March 18, 2023
The session on March 18th went wonderful and cheerful! Thank you for everyone who joined us and spent great time sketching and chatting. The Aquatopia Garden Consevatory is a beautiful place with lots of garden flowers and plants.
March 4, 2023
The session on March 4th was cancelled due to the snow storm. But we decided to do a virtual houseplant sketch session with my students!
Set up the place for sketching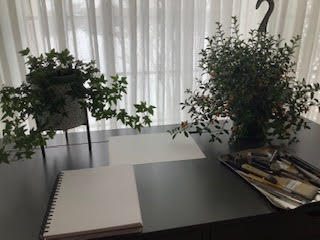 Beautiful results