Once you register and enroll for this workshop you will get access to the workshop content at the bottom of this page.
Interactive online workshop for all levels of watercolour skills.
Aurora Borealis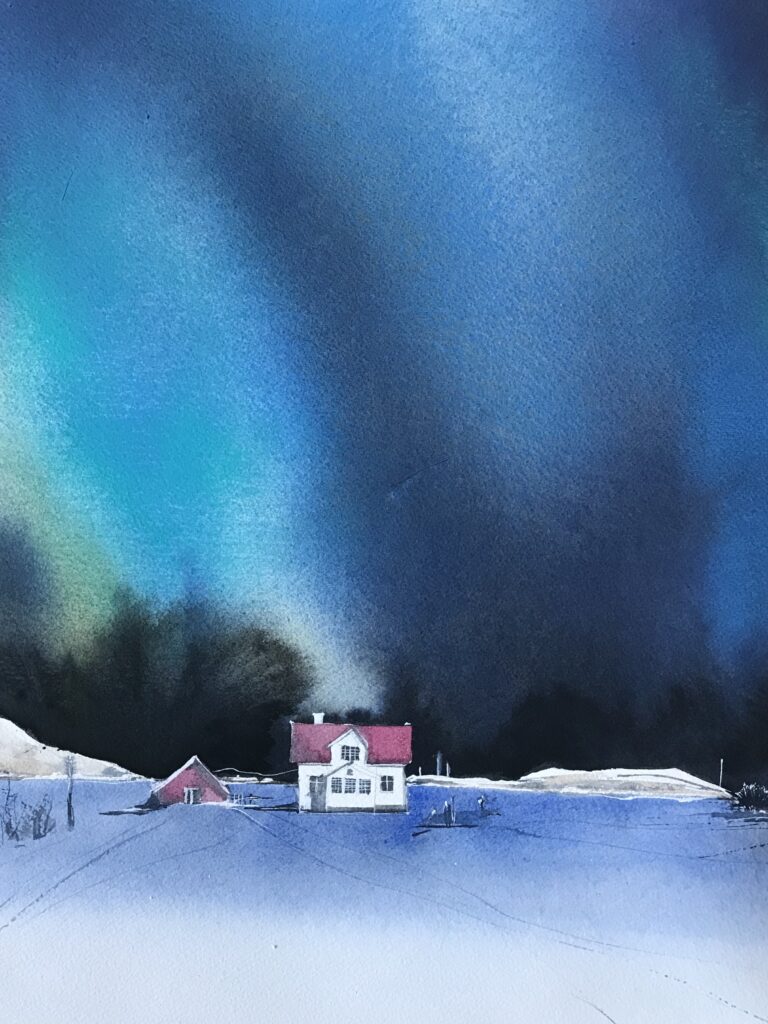 In this workshop you will be practising the Ala Prima technique and you will be experimenting with infusing washes.
BASIC package for online interactive workshop.
 
Lifetime access to 1 hour 25 minutes detailed video tutorial.

Take this Course
Student work
The student's work gallery is coming soon.
Recommended materials and tools:
⁃ watercolour paper (100% cotton is RECOMMENDED) - 1 sheet
⁃ printer paper for a photo reference (optional)
⁃ flat brushes, one big and one medium
- soft round brushes, one big and one small and liner
⁃ pencil and eraser
⁃ hair dryer
⁃ gloves (optional)
⁃ six wells palette (or a few ramekins or small flat jars) ⁃ two jars with water
⁃ paper towels a lot
⁃ A  water-resistance board slightly larger than your watercolour paper (plexiglass, glass, mirror, cooking sheet, plastic placemat)
⁃ COPIC Opaque White (or White gouache or White Roll pen)
⁃ Watercolour paint (any quality, preferable in tubes or concentrated in jars) Colours:
Any light blue
Any light green
Any turquoise
Any bright blue
Any dark blue
Any dark grey
Any red
Materials that will be used in the video tutorial:
Watercolour paper Arches, 300g/m2, cold press, 12x16
Brushes:
Soft Flat brush, 2", squirrel hair Flat brush, 3/4", synthetic, Round, D 13 mm, squirrel hair Round, D 5mm, wolf hair
Liner 30, synthetic
Paints:
Cerulean Blue, Van Gogh
Turquoise, M.Graham
Turquoise Blue, Dr.Ph.Martins
Cobalt Teal Blue, Daniel Smith
Blue Aqua, Dr.Ph.Martins
Viridian Green, Dr.Ph.Martins
Royal Blue, HWC Holbein
Ultramarine Blue, M.Graham
Ultramarine, Van Gogh
French Ultramarine, Daniel Smith
Indigo, HWC Holbein
Payne's Grey, Van Gogh
Permanent Red, Daniel Smith
Neutral Tint, Van Gogh
COPIC Opaque White
A plexiglass board
Pencil HB
Two jars with water
Six wells palette Paper towels
Gloves
Hair dryer