SUNNY FLOWERS
BASIC FREE package for self-studying

Start anytime

Lifetime video access

Once you have enrolled you will have access to the workshop content at the bottom of the page.
Click to watch a video how to get access to the workshop content
Suitable for beginner to intermediate level.
In this workshop you will create a beautiful composition of sunflowers. First you will play with colourful puddles to create a background for your drawing. Then, you will draw free hand flower silhouettes based on your background pattern.
You will be given an option to trace a template in pencil before you start the watercolour background.
Get inspired by student's work: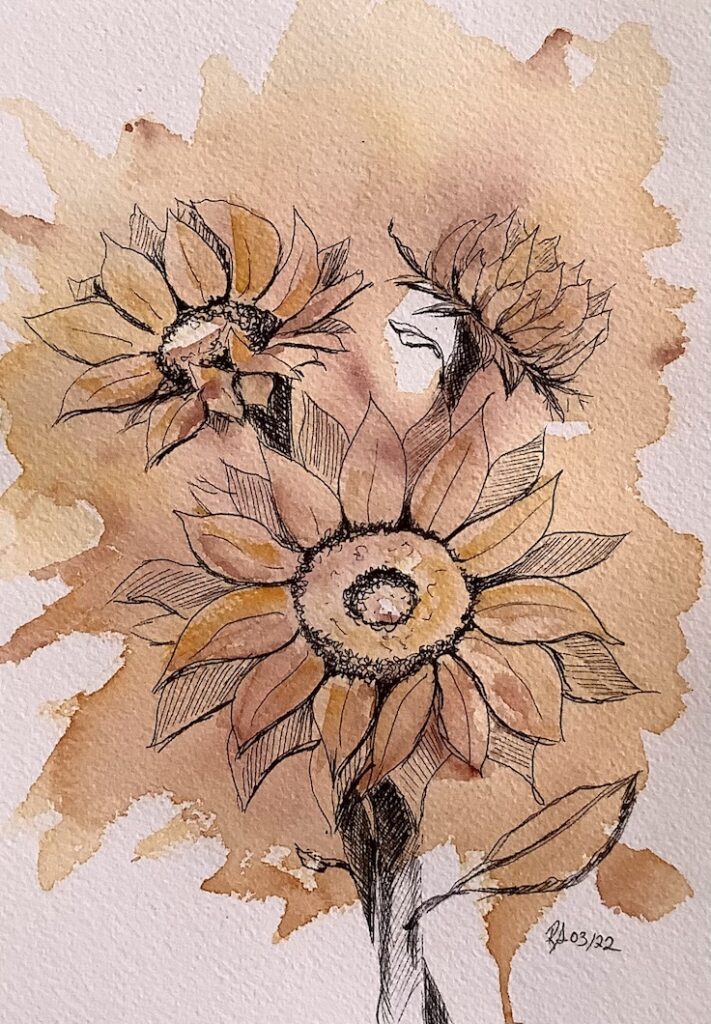 How to get access to the tutorial content
Materials:
Watercolour paper (any type) - 1 sheet. Sthrathmore 400 series 300gm2 was used for demo

printer paper for a photo reference (optional)

Any brushes, at least one big and one small

Hair dryer

Pencil and eraser

A jar with water

Paper towels

White Gouache, or White Opaque COPIC, or Bleed Proof White by Dr.Pr.Martins

Watercolour paint (any yellow, red or orange)

Ink markers at least three sizes: fine, medium and bold. The SAKURA MICRON markers were used for demo; sizes 005, 01 and 08
table cloth, old flyers, any paper big enough to protect your working table