Golden Iris
Let's enjoy the energy of Summer flowers together! Sign up for this workshop and spend the Saturday enjoying the warm weather and Summer Beauty!
During this 4 hour mixed media workshop you will accomplish a painting of an Iris using ink and watercolour, and then you will decorate it with gold leaves.
During lunch break; depending on weather, feel free to walk in my beautiful garden and have your lunch beside the fire pit in the Pergola near the Natural Pond.
Enjoy a bowl of homemade Russian beet soup "borsch" garnished with sour-cream and fresh dill served with a veggie sandwich made with homemade bread and a cup of tea with a piece of fruit pie for dessert.
The studio is in Pakenham, Ontario, located on 10th Concession road off White Lake Road; 5 minutes to Arnprior Canadian Tire or Pakenham Public Library; and 25 minutes to Kanata, Ottawa or to the Renfrew area.
You will receive a driving instructions once you signed up for this workshop.
LIVE package for in-person workshop

Maximum 4 students
The fee is $125+HST

Homemade lunch and all materials are included in the fee.

All tools, an apron and gloves are provided for use during the workshop. 

Materials: 
Arches 100% cotton watercolour paper 12x16 
professional watercolour paints 
India ink markers
gold leaves and glue

Frame with a white mat (full size 23x19) is not included, but can be purchased on the site.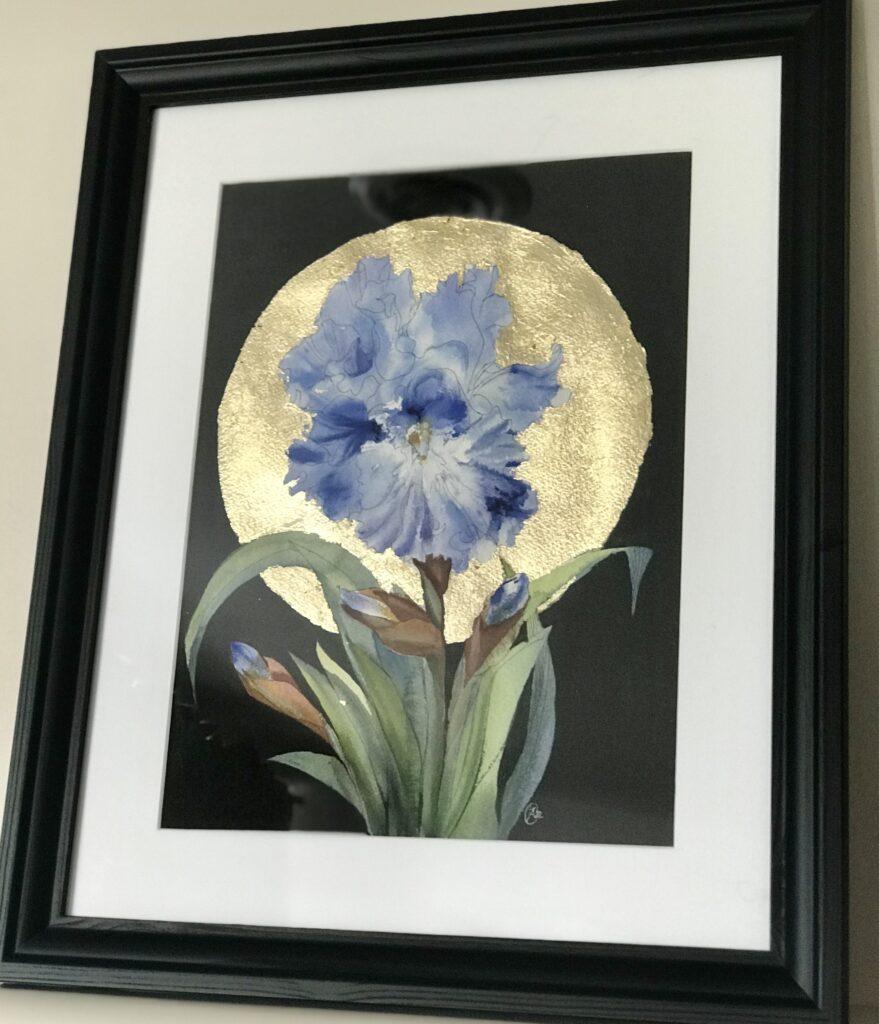 Student works
Coming soon.
How to get access to the tutorial content
Materials for the workshop:
Watercolour paper, :
Arches watercolour paper, cotton, cold press or rough, 300 gm2
Watercolour brushes;
- Hake brush for paper preparation, 65 mm (you can use any flat brush)
- Round 13 mm Paul Rubens;
- Flat synthetic brush 3/4  (Escoda) 
Watercolour board 
Watercolour palette with a large surface for mixing pigments. . 
A Pencil  2B 
Two large jars for water;
Paper towels;
Hair dryer
The list of watercolour paint for  "Golden Iris"
Watercolour paint;
Light Yellow (Lemon Yellow, Daniel Smith)
Rust (Burn Sienna, Daniel Smith)
Brown (Burnt Umber, Daniel Smith)
Green (Olive Green, Daniel Smith)
Black Green (Perylene Green, Daniel Smith)
Bright Blue (Cobalt Blue, Daniel Smith)
Ultramarine (Daniel Smith)
Light Lilic (Lavander, Daniel Smith)
Bleed Proof White (Dr.Ph.Martins)
or
White Gouache (optional)
or