Once you register and enroll for this workshop you will get access to the workshop content at the bottom of this page.
Interactive online workshop for all levels of watercolour skills.
JASPER
Jasper National Park is truly one of the world's most beautiful place.
Established in 1907, is the largest national park in the Canadian Rockies with 10,878 square kilometres of mountain wilderness.
Jasper is the wildest of the mountain parks, and contains a superb backcountry trail system as well as the world famous Columbia Icefields, one of the only Icefields in the world accessible by road.
It is internationally-renowned for hiking in the park, skiing at Marmot Basin and wildlife viewing, and is home to some of North America's rarest animals, including healthy populations of grizzly bears, moose, caribou and wolves.
Jasper National Park is the largest park in the Canadian Rockies. Jasper spans 10,878 square kilometres (4200 square miles) of broad valleys, rugged mountains, glaciers, forests, alpine meadows and wild rivers along the eastern slopes of the Rockies in western Alberta.
There are more than 1200 kilometres (660 miles) of trails, many scenic drives, a wide assortment of activites, and great accommodations.
Jasper joins Banff National Park to the south via the Icefields Parkway. This parkway offers unparalleled beauty as you travel alongside a chain of massive Icefields straddling the Continental Divide. The Columbia Icefield borders the parkway in the southern end of the park. Visitors are warned not to walk out onto the glacier. Guided tours are available.
Large numbers of elk, bighorn sheep, mule deer and other large animals, as well as their predators make Jasper National Park one of the great protected ecosystems remaining in the Rocky Mountains. This vast wilderness is one of the few remaining places in southern Canada that is home to a full range of carnivores, including grizzly bears, mountain lions, wolves and wolverines.
In this workshop you will be practising the Ala Prima technique. You will study the basic rules of tonal perspective and how to create the illusion of distance and how to"infuse" air into your painting.
BASIC package for online interactive workshop.
 
Lifetime access to 40 minutes detailed video tutorial.

Take this Course
Student work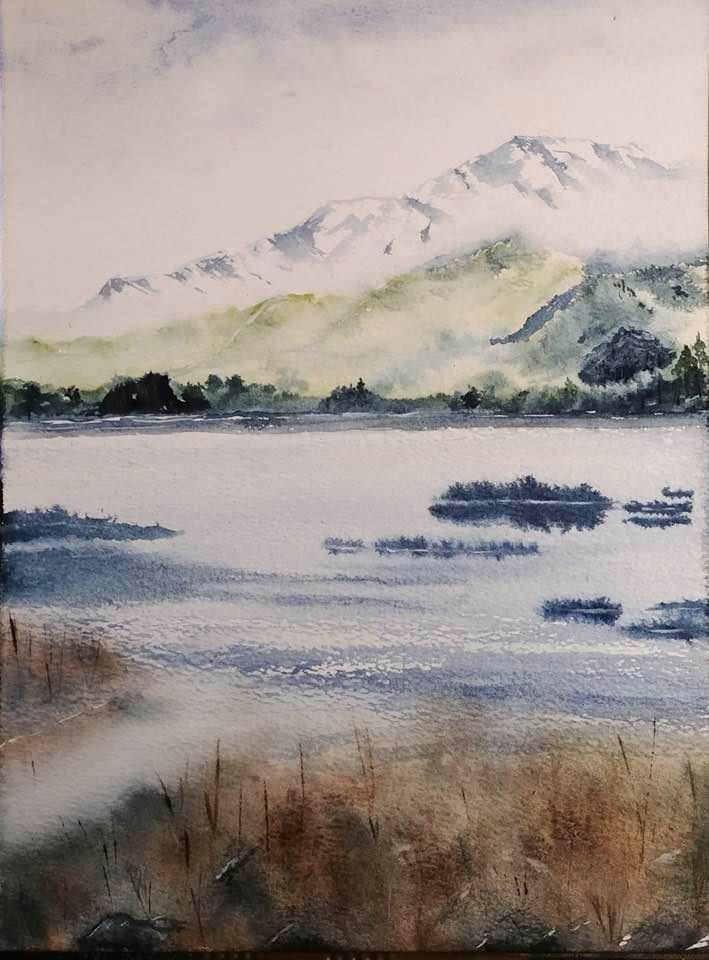 Materials and tools:
⁃ Watercolour paper (100% cotton is preferable) - 1 sheet;
⁃ printer paper for a photo reference (optional);
- Soft round brushes, at least one big and one small;
-  synthetic flat brush, one big and one medium;
⁃ Hair dryer;
⁃ Pencil and eraser;
⁃ Two jars of water;
⁃ A  water-resistance board slightly larger than your watercolour paper (plexiglass, glass, mirror, cooking sheet, plastic placemat)
⁃ Watercolour paint (any quality, preferable in tubes)
Colours, my choice is in brackets;
any light green (Gold Green, Daniel Smith)
any olive (Olive Green, Van Gogh)
any bright blue (French Ultramarine, Van Gogh)
any dark blue (Indigo, Grumbacher)
any light brown (Burnt Sienna, Van Gogh)
any dark brown (Burnt Brown, Van Gogh)
any dark grey (Paynes Grey, Van Gogh)
White Gouache or White COPIC