Explore the landscapes of Newfoundland and Labrador, Alberta and Ontario in this set of mini-courses.
Upgrade your skill level and widen up your artistic horizon!
Extend your watercolour skills while painting the fauna, coasts and seascapes of Newfoundland, the mountains, lakes and parks of Alberta and the Winter fairyland of Ontario.
Newfoundland and Labrador is one of mini-course of the Canadian landscape set of courses. This mini course takes you to the East coast of Canada where you will learn to paint puffins and ocean coast landscapes.
Once you register and enroll for this course you will get access to the course content at the bottom of this page.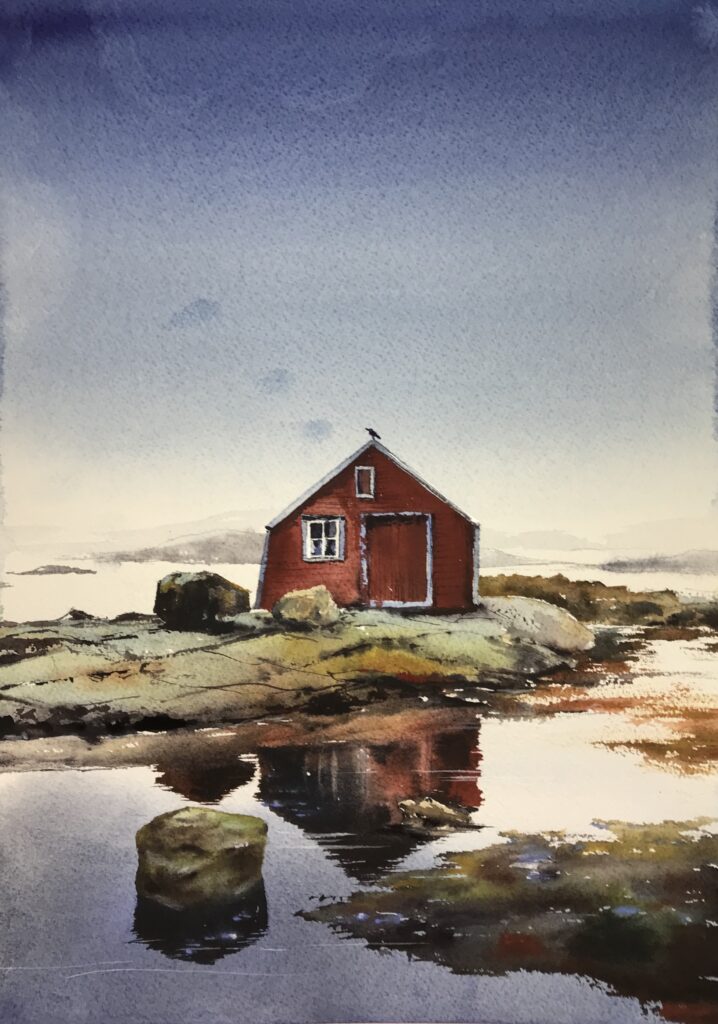 BASIC package for online self-study


4 lessons; 
4 paintings;
4 practical and visual exercises;
6 hours of detailed video tutorials.  





Video access: 
Lifetime for self-studying

You always can upgrade to REVIEW.
Take this Course
What this course gives you?
In this course you will learn to create outstanding landscape painting within 1 or 2 hours. The minimum colours in your palette will give you absolute freedom and will help you to train your vision. You will finish at least four large paintings plus practical exercises.
What is in the course?
This course contains four lessons. You will learn the theory of atmospheric perspective and use this knowledge in practice. You will paint four landscape scenes with different viewpoints. You will learn how important it is to understand where the line of horizon is and how it changes the impression of your painting.
Lesson 1
Puffins the Clowns of the Sea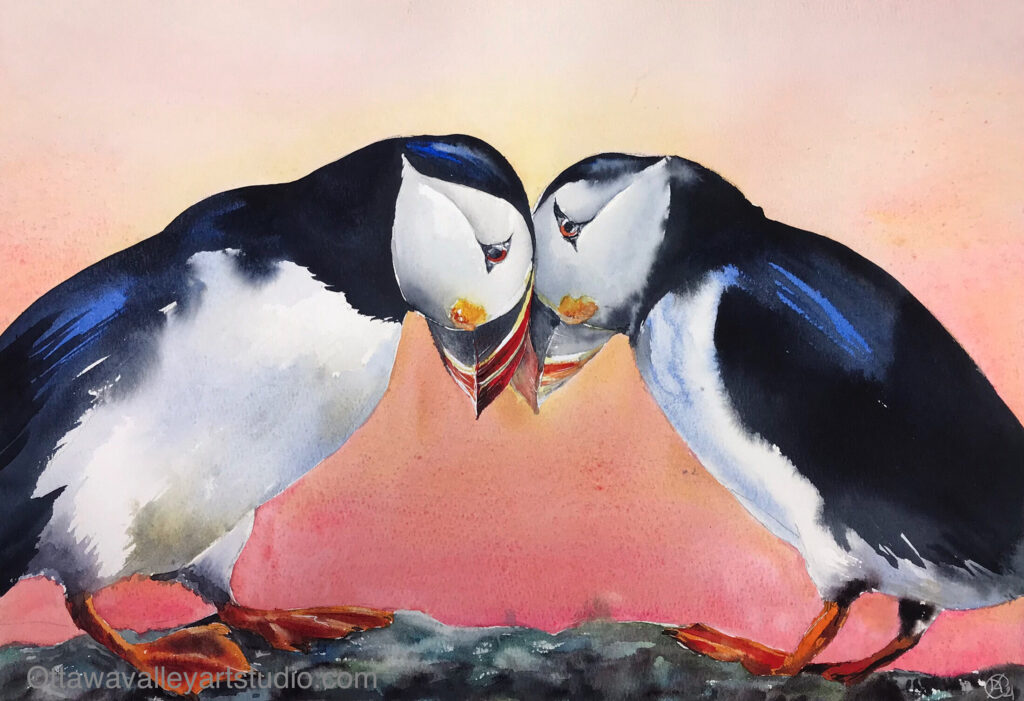 In the first class you will practice fast tonal and negative space sketching of the puffins. Then you will paint a beautiful couple with sunset background. 
Lesson 2
The ocean coast Bonavista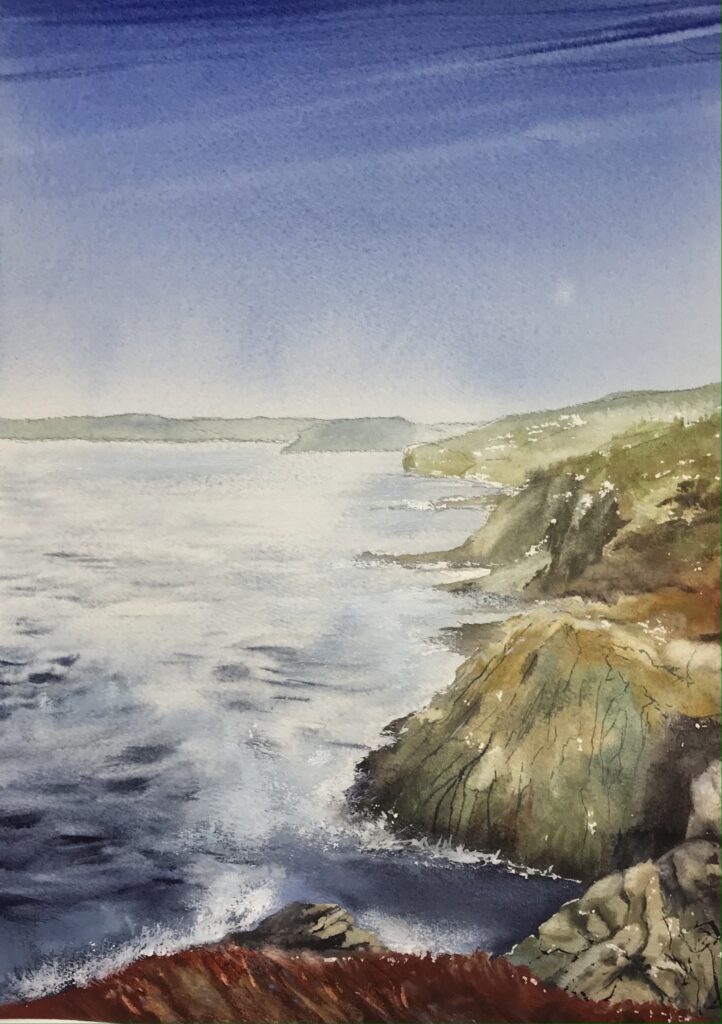 In this lesson you will practice even and gradation wash using different methods of paper preparation. You will paint the ocean view with a beautiful cost line. 
Lesson 3
Tilting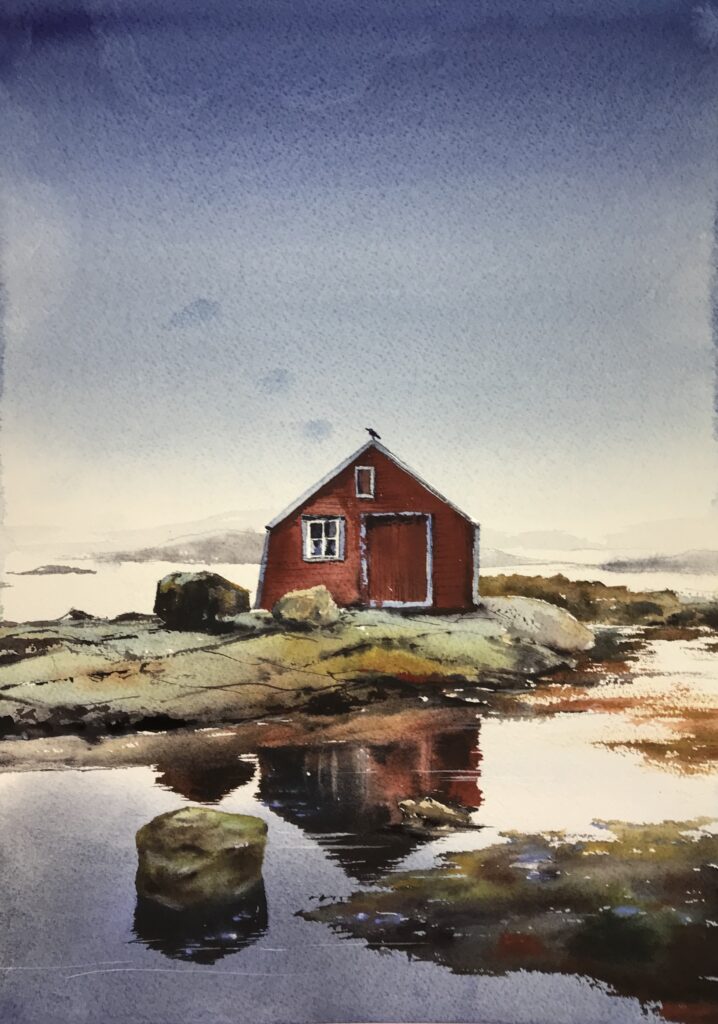 In this lesson you learn the basic rules of reflection. You will learn the rules of landscape composition. You will make a few practical and visual exercises to compare how the reflection sets the mood of your paintings. You will practice painting a seascape with a house on the rocks. You will practice infusion and gradation washes to create the effect of cold misty air and cold water.
Lesson 4
The Fishing Village Salvage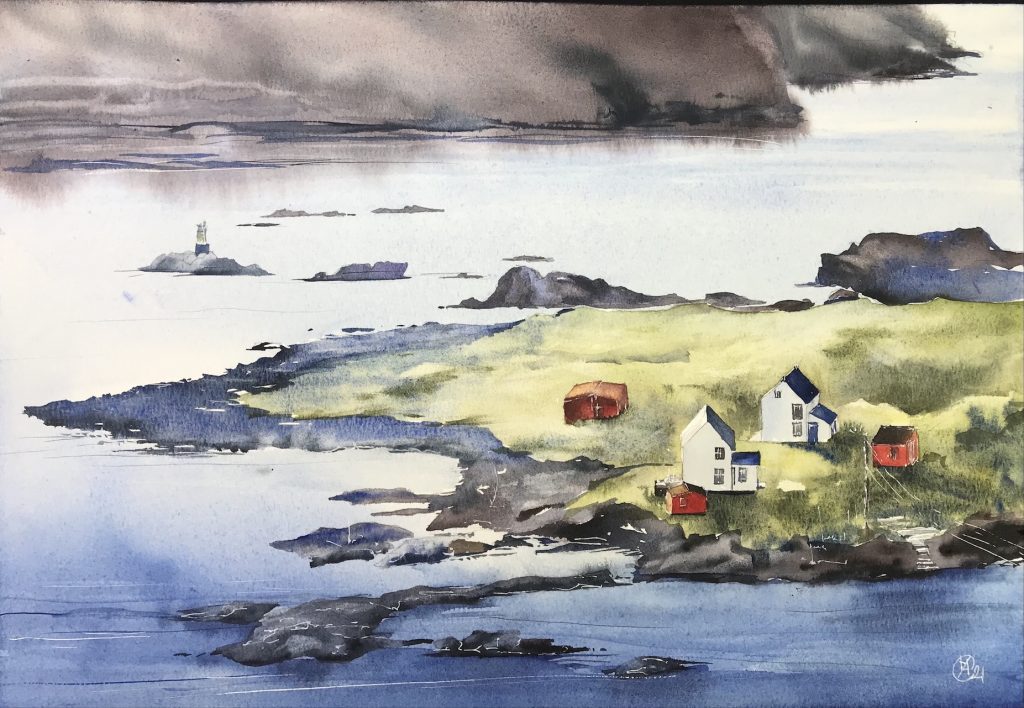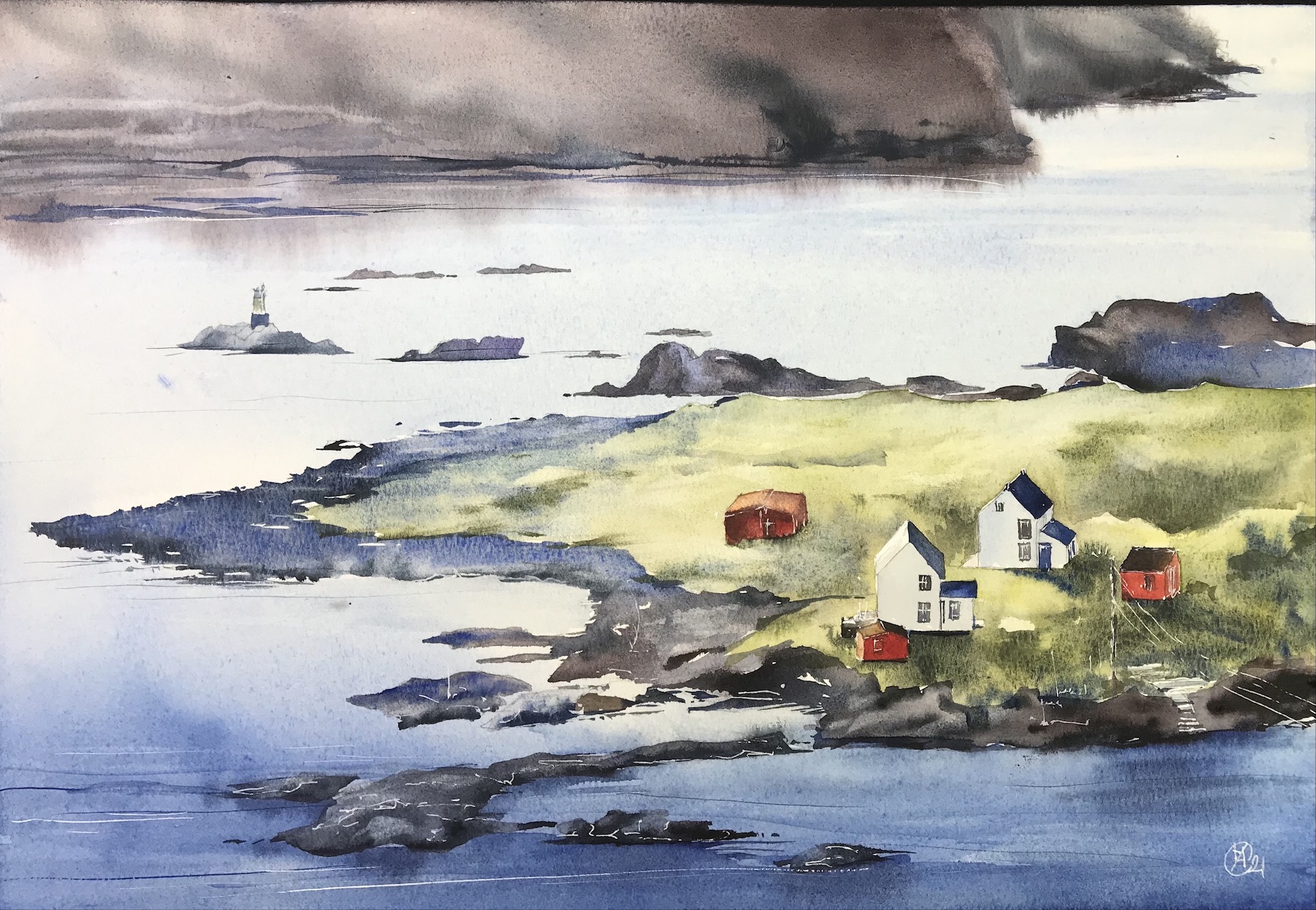 In this lesson you will practice using cold and warm colours to create the value of subjects that are located at different distances from you. You will paint the traditional saltbox houses in the fishing village of Salvage.
Take this Course
Student work:
Materials that I am going to use during the course;
This list is only for your information, there is no need to get exactly what I am using:
Watercolour paper, per lesson:
Watercolour brushes;
- Round # 10-12, # 6 and # 2; Escoda, Paul Rubens or Dainayw;
- Flat synthetic brush 3/4 and 1 1/2 or larger (Escoda, Grumbacher, Santa Fe Art Supply, Connoisseur ) 
- Liner brush (Princeton, Artist's Loft)
Watercolour paint;
Ultramarine 
Indigo
Cobalt Blue
Cerulean Blue
Lavender (optional)
Neutral Tint
Payne's Grey
Olive Green
Dark Green (optional)
Burnt Umber
Burnt Sienna or Quinacridone Rust
Indian Red
Orange
Ochre
Buff Titanium
Yellow
Opera
Red
Violet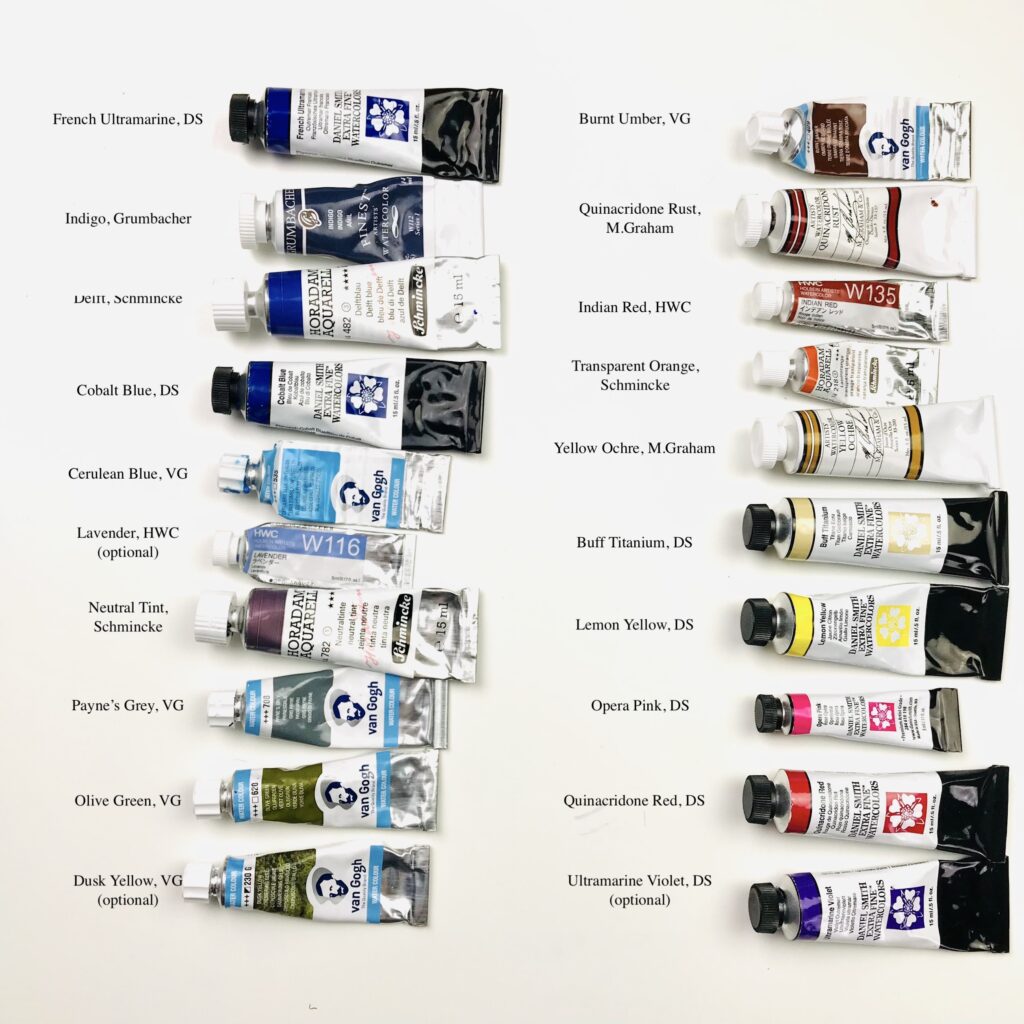 White Gouache (optional)
And/or
White pen, Gelly Roll, 08, Sakura, Japan
And/or
Artistic tape;
Watercolour board (the board which you will tape your watercolour paper to) and plexiglass board (any plastic board that the wet paper will stick to); You can use any smooth surface board big enough to place your paper on it; glass, mirror, flat baking sheet. 
Watercolour palette with a large surface for mixing pigments.  Alternatively, you can use a white ceramic plate. Also, you will need a wheel palette for the lesson 2. Alternatively, you can use a ramekin.
A Pencil 3H and 2B and Eraser;
Two large jars for water;
Paper towels;
Sea sponge (optional);
Sponge (a small piece approximately 2x2 cm for the Lesson 2).
Hair dryer.