CORNFLOWER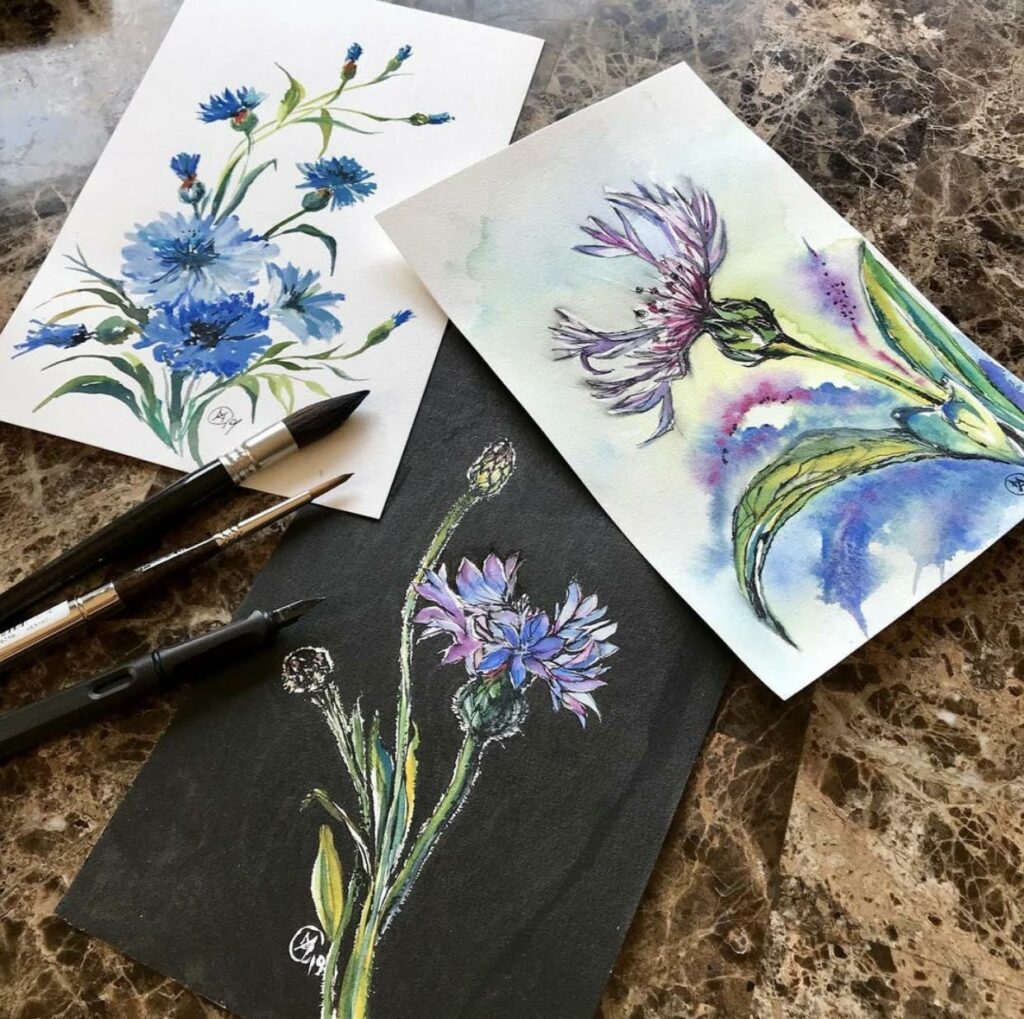 In this workshop you will practice drawing and painting cornflowers using combinations of techniques; wet-on-dry and wet-on-wet.
In the first part of this workshop you will practice drawing and painting a beautiful purple cornflower using ink and watercolour.
In the second part of this workshop you will practice painting flower composition using free brush strokes. This techniques could be used with watercolour, acrylic or oil based paint.

No previous experience required.
For all ages and for all skills levels
ZOOM package for online interactive workshop with lifetime access to video tutorial

Saturday

February 25th, 2023
 
12 PM to 2 PM EDT

Homework video review

You will get lifetime access to a video tutorial based on this ZOOM class that will be posted a couple of days after the workshop.
Once you register you will get access to the course content and ZOOM link
Check out all FLOWERS
Student's work
Student's work gallery is coming soon
IMPORTANT
One of technique is suitable for watercolour or acrylic painting.
During workshop I am going to demonstrate the painting process with watercolour and acrylic paint.
You can use either of them or both.
Materials that I am going to use during the workshop:
This list is only for your information, there is no need to get exactly what I am using:
Fountain ink pen, LAMY Safary 
or, permanent marker, fine point, Sharpy;
Watercolour paper, BEE Paper company, cotton, 300 g/m2
and/or
Watercolour paper, Strathmore 400 series, cellulose, 300 g/m2
and/or
Acrylic paper, Strathmore 400 series, linen finish, 400 g/m2
Watercolour brushes;
Round, 13 mm Paul Rubens
Flat Angled, 6,3 mm, Princetone
Watercolour board and tape
Watercolour palette with a large surface for mixing pigments. Alternatively, you can use a white ceramic plate.
Acrylic palette, or white plate.
Two large jars for water;
Paper towels;
Paints (watercolour and/or acrylic):
You will need any combination of blue colours:
Light blue - Cerulean Blue or Lavender
Blue - Royal Blue 
Ultramarine
Cobalt
Dark Blue - Delft Blue (optional)
Black Blue - Indigo (optional)
and the following colours:
Yellow - Lemon Yellow
Bright Rusty - Burnt Sienna 
Magenta
Violet 
Viridian Green (optional)
Dark Grey - Paynes' Grey
White Gouache / Acrylic paint(optional)
And/or
White pen, Gelly Roll 08, Sakura (optional)