Let's enjoy the beauty this amazing Rose. Absolutely stunning Queen of the Garden!
Rosa 'Double Delight', is a multiple award winning, red blend hybrid tea rose cultivar bred in the United States by Swim & Ellis and introduced in 1977. Its parents were two hybrid tea cultivars, the red and yellow 'Granada' and the ivory 'Garden Party'.
The copy of watercolour painting by artist Kitipong Ti from Bangkok, Thailand is used in this workshop.
Get inspired by student's works: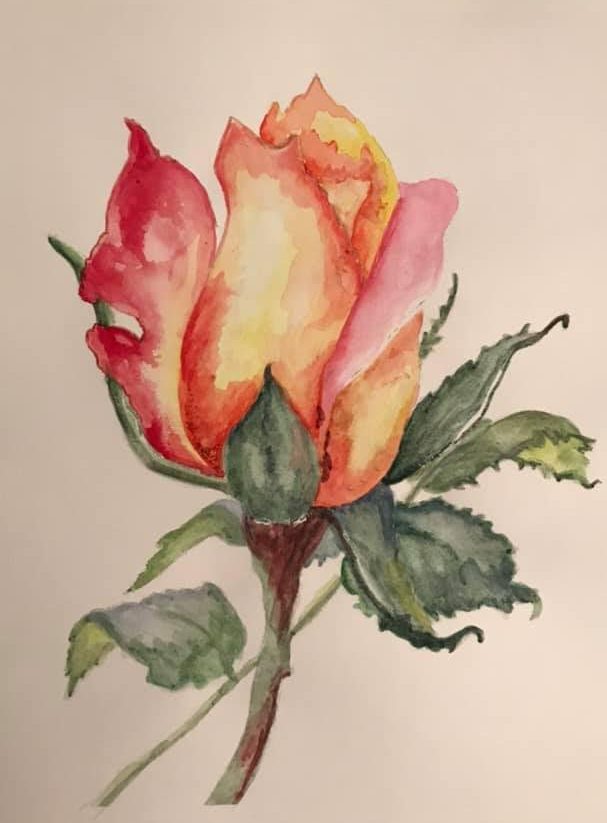 BASIC package for self-study. 

START ANYTIME 

Video access: lifetime

1 hour of video step-by-step tutorial
Take this Course
Materials you will need for this painting: 
⁃ Watercolour paper (100% cotton is preferable) - 1 sheet; 
⁃ printer paper for a photo reference (optional); 
-Soft round brushes, at least one big and one small; 
⁃ Hair dryer; 
⁃ Pencil and eraser; 
⁃ Two jars with water; 
⁃ A board slightly larger than your watercolour paper 
-Artist/drafting tape; 
⁃ Watercolour paint (any quality, preferable in tubes) 
Colours, my choice is in brackets; 
any light yellow (Lemon Yellow, Cadmium Yellow) 
any orange (Transparent Orange) 
Any pink (Opera Pink) Any red (Quinacridone Red) 
Any dark pink red  (Quinacridone rose) 
any light green (Gold Green)  
any green (Sap Green) 
any dark green (Undersea Green) 
any bright blue (French Ultramarine) 
any dark blue (Indigo) 

Materials used in the video tutorial: 
Watercolour paper Arches, 300g/m2, cold press, 10x14 
Brushes: 
Soft Flat brush, 1 1/2, squirrel hair  
Round, D 13 mm, squirrel hair 
Round, D 5mm, wolf hair 
Paints: 
Lemon Yellow 
Cadmium yellow 
Transparent Orange 
Quinacridone Red 
Quinacridone Rose 
Opera Pink 
Gold Green 
Sap Green 
Undersea Green 
French Ultramarine 
Indigo 
A board 
Derwent 2B pencil 
Nano Mister