Once you register and enroll for this workshop you will get access to the workshop content at the bottom of this page.
Video tutorial for all levels of watercolour skills
COLD SUN
I am sure all of you have experienced at least once in your life the glorious feeling of warm winter sun on your face filtered through the trees.
When this painting was posted on Facebook one commenter mentioned that this scenery reminded her the word Apricity.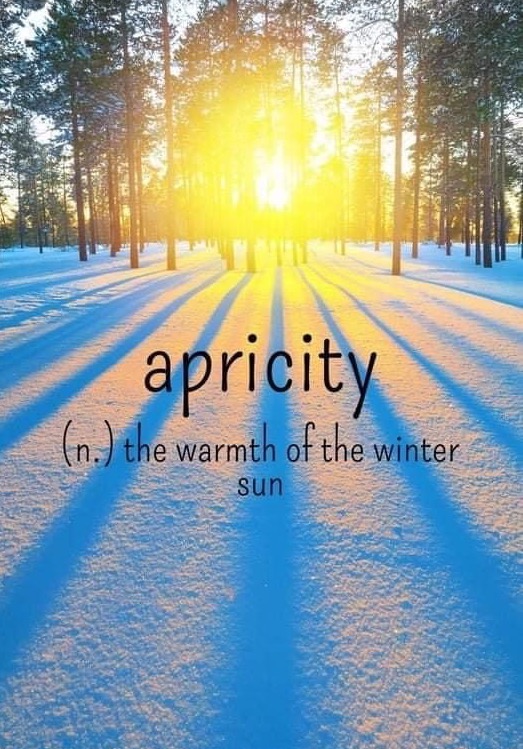 I love how you describe your feelings when you look at this painting.
"Breathtaking! I can just feel the brisk cold in my lungs, and I'm squinting due the bright reflection of the sun!" by Rhonda
"This is like taking a breath of fresh air. I really love it! " Benita
"This made me instantly relaxed" Emerson
"Like a morning I live to wake up to. Beautiful. It evokes such peacefulness." Susan
"You nailed perfectly mesmerizing magical dynamics of ice crystal fogs rising fm frozen surfaces as warming dawning sun rays shoot thru frosted wintry landscapes" Pearl's Oyster
"Never have I seen a composition quite like this
and the colors are spectacular!" Deborah
"I don't think very many people could paint in your wonderful style" Kathleen
"Oh this makes me take a huge freeing breath!!! So love this!!" Kelly
"Nailed it, wow" Adam
"I love the ay you did the trees." Gretchen
"The way you did the sun shining through the trees is gorgeous! " Megan
"Stunning! Especially that luminous sky!" Bella
"Makes me shiver! Br-r-r-r! Great work!" Jane
"How did you get the sunlight??? Gorgeous!!" Francesca
"I would love a tutorial for this one!" Jillian
"Wow… Ok..imma need you to teach me how to do this!!!" Tegan
Believe me it is not as hard as it looks! All you need is two colours and some practice.
Take this video tutorial and you will be able to create your own Apricity.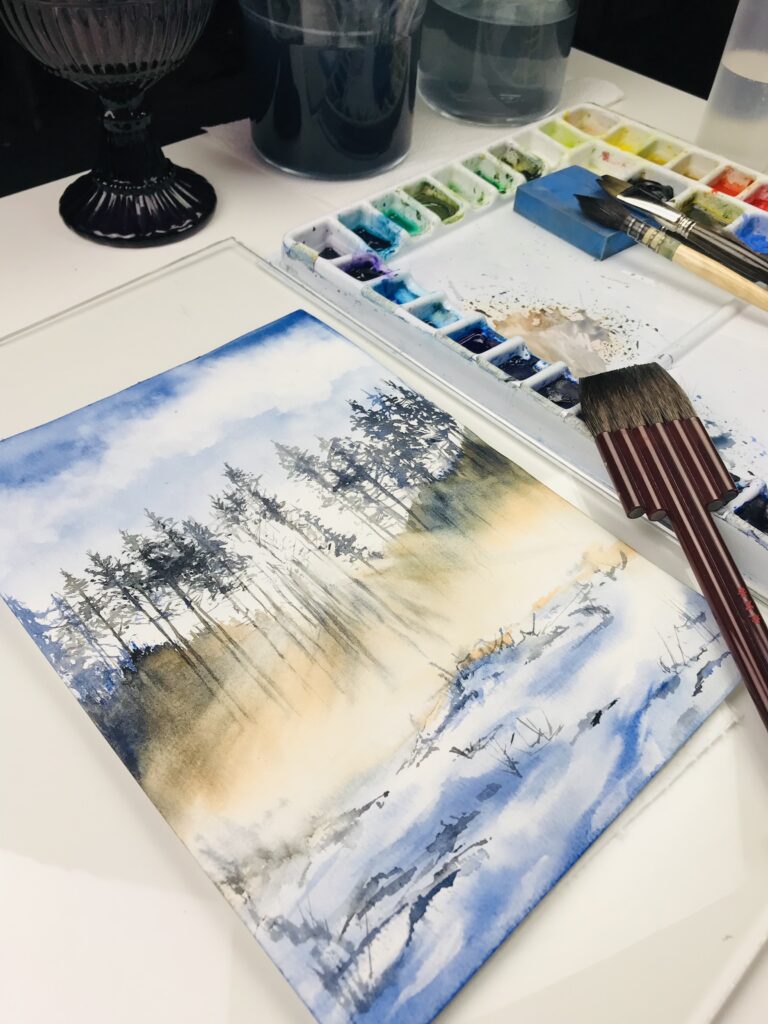 BASIC package for self-study.
 
Lifetime access to a 70 minute detailed video tutorial.

Take this Course
Student work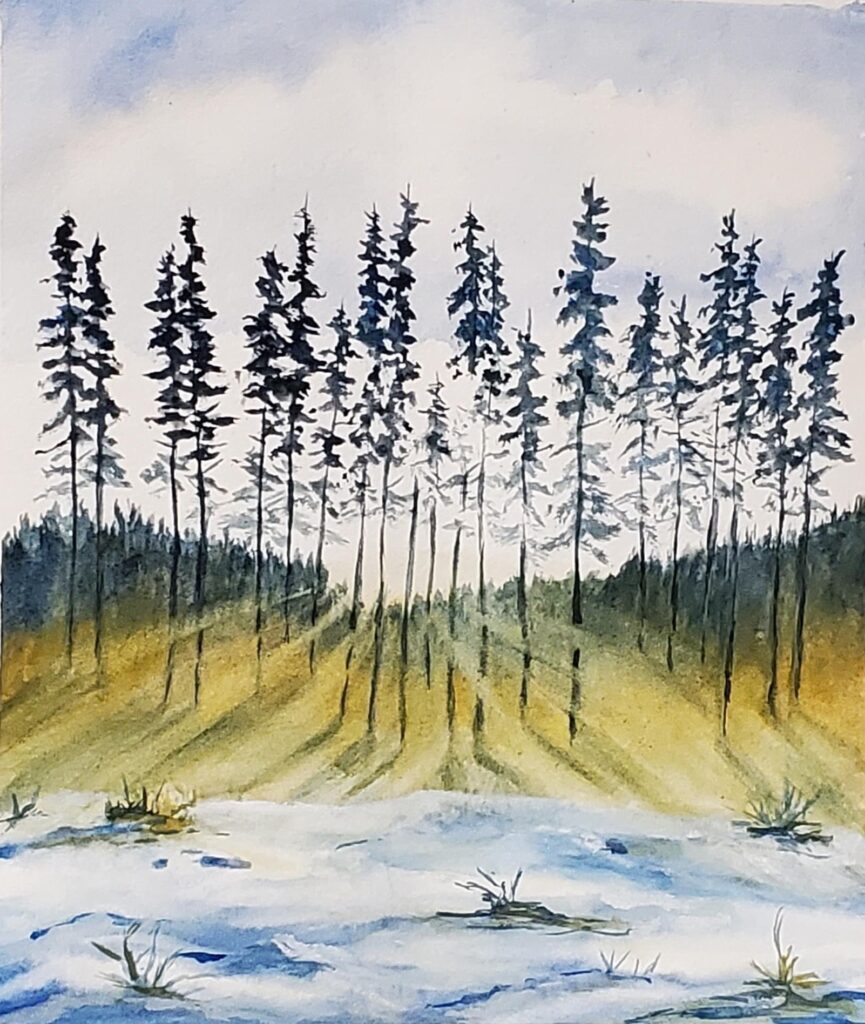 Materials and tools, my choice is on brackets;
Watercolour paper  - 1 sheet (Paul Rubens, 50% cotton)
Printer paper for a photo reference (optional);
BRUSHES:
- Soft round brushes, at least one big and one small (Paul Rubens watercolour mop brush, size 6 , D13 mm; calligraphy brush D5mm and rigger brush Escoda D 2mm)
-  synthetic flat brush, medium; (Escoda, flat brush 20mm)
-  hake brush ( natural hair, 47 mm)
Hair dryer;
Pencil and eraser;
Sea sponge;
Magic Eraser (optional);
Two jars of water;
Plexiglas or glass board slightly bigger than your paper size;
Paper towel.
WATERCOLOUR PAINT (any quality, preferable in tubes)
Colours, my choice is in brackets;
Any orange (Transparent Orange, Schmincke)
Any blue (Delft Blue, Schminske or/and Prussian Blue, W&N)
Optional Any dark grey (Paynes Grey, W&N)