Get Started
This course is currently closed
This workshop is free of charge, although you can show your support by donating any amount to the Arnprior & District Humane Society.
Toucan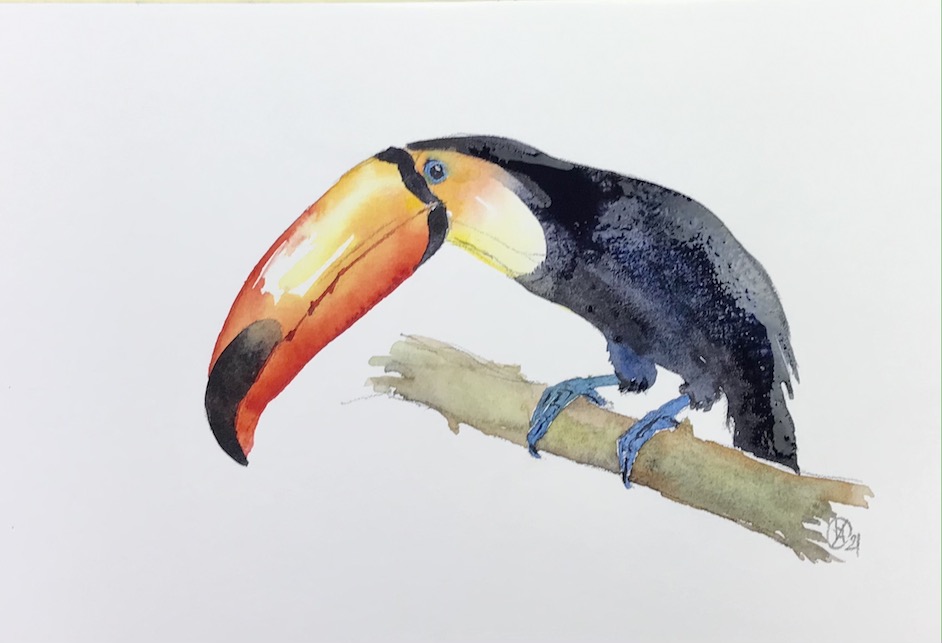 Interactive online workshop for all levels of watercolour skills.
ZOOM FREE package for online interactive workshop.
 
August 26, 2021
7 PM to 8 PM EDT

Once you register you will get access to the course content and ZOOM link at the bottom of this page.
In this workshop you will be practising the following techniques: fast and simple even wash; infusion and variegated washes; multilayered washes and pigment lifting.
You will take a peak on what we are going to study in the upcoming watercolour courses "Northern Landscape" and "Canadian Landscape". Click on the image to read more.
Check all available courses and workshops:
Materials and tools:
⁃ Watercolour paper (100% cotton is preferable) - 1 sheet, size recommend 10x8 or 14x10; 
⁃ printer paper for a photo reference (optional);
- Soft round brushes, at least one big and one small;
-  syntetic flat brush, recommendation size  is 3/4
⁃ Hair dryer;
⁃ Pencil and eraser;
⁃ Two jars of water;
⁃ A board slightly larger than your watercolour paper;
⁃ Watercolour paint (any quality, preferable in tubes)
Colours, my choice is in brackets;
any yellow (Cadmium Yellow)
any red (Alizarin Crimson)
any orange (Transparent Orange)
any blue (Cobalt)
any dark grey (Paynes' Grey and Neutral Tint)
White Gouache or White COPIC